Big Money Forum >> Online Business
Stumble Upon Forum and Marketing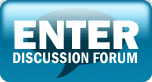 Many folks may already know what Stumble Upon is or may already be using it themselves. Here at Big Money Forum, we will show you how you can harness this tool to bring traffic to your website. This program is relatively new and has proven itself to be a pretty effective marketing concept if used right. Basically Stumble Upon is a program that web surfers use to rank sites for their popularity. To visit our forum right away and start exchanging stumbles and diggs with other members, please visit our Stumble and Digg Exchange Forum!
This program is a small button on your toolbar in your browser's window, which is very similar to the Google toolbar. I'll explain how it works. When an internet user visits a website with this toolbar installed, they can either give the site a thumbs up positive rank or a thumbs down negative rank. In jargon terms, they "stumble" your site. When you have received enough "stumbles" or votes, your site becomes more popular and more people will sumble upon your site. It's a very relatively simple process.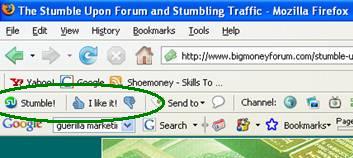 People can stumble upon your domain when they press the "Stumble!" button in the tool bar as shown above. The program will randomly direct you to a highly popular site in the category(ies) of interest that you selected when you registered for an account. For example, if you chose a category such as "business and finance" in your account, you will stumble onto business and finance related websites that other visitors gave a thumbs up for. Remarkably, there are some extremely interesting but unheard of sites that I have stumbled upon!
Stumble Upon Traffic is Search Engine Alternative
You may ask why this has anything to do with making money. Have you ever had a wonderful site, the best site in the world and the greatest products, but no one has seen it because you rank poorly in the search engines? Stumble Upon may be the solution for you. You can get huge traffic if you have something people find extremely interesting. This is what you would call viral or guerilla marketing. It works phenomenally when you have something valuable and different, because if someone likes it, they can vote on it and the traffic grows exponentially when more and more people stumble upon it. It's a lot like the YouTube craze, only you don't need to make videos, you just need an interesting site.
free stumbleupon exchange forum for traffic
Even if you have good search engine traffic, you can get even more if you have your stumbling strategy. Many online marketers have been asking for people to "stumble" their sites and give them positive votes so they get start getting their online business off the ground and get people to stumble upon their site. This has been very hard to do as it's difficult to find people to stumble their websites, but I'll show you a great resource you could use to implement your strategy and meet people with the same goal.
Stumble Forum for Stumbling Traffic
Here at Big Money, we thought it would be a great idea if we created a stumble forum or also known as the Free Stuff Forum in our Online Marketing and Developer Forum. This is a beneficial to your budget because it's free marketing. If you want to market and get traffic to your website without paying for it, then this is the way to go.
The strategy to using our stumble forum is to make a post requesting someone to stumble your site. You won't have to worry because anyone using that forum is using it for the same purpose. Usually you will see a "1:1" stumble request or something like this. It means that you will receive 1 stumble from that member if you stumble their page 1 time. Some members have great days or want to build their stumble upon account up more and they will give out unlimited free stumbles. So if you have 100 pages, you can get all 100 pages stumbled for free.
Marketing with Stumble Exchanges
You are also allowed to stumble each of your pages one time, but that's what everyone does. So you will want to get as many people as you can to stumble your webpages. There are also many other free marketing strategies similar to StumbleUpon. Digg is a very popular one, but that is for another article. Our Digg forum, link exchange forum and etc. are also located in our Freelance and Coop Exchange Forums located under our buy, sell and exchange section along with the stumble forum. The best way to profit and bring in the money is to take advantage of these free services, every little bit will only help your online business strategy in the long run.
Now that we are on the subject, if you found this article helpful and you have a Stumble Upon account, we would really appreciate a stumble donation. So don't forget to stumble our site! :)